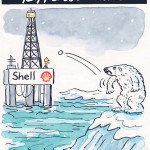 Het ziet ernaar uit dat de Brits-Nederlandse oliegigant Shell in juli dan toch met diepzeeboringen kan beginnen in de Beaufortzee voor de kust van Alaska. Na zeven jaar geduw en getrek en een lobbycampagne die een slordige 4 miljard dollar heeft gekost.
De vergunningen waren al een tijd in orde,  maar een coalitie van inheemse bewoners en milieuorganisaties had Shell voor de rechter gedaagd. Uit vrees voor een 'Deepwater Horizon: The Sequel'. Het heeft niet mogen baten.
De NY Times heeft het over 'a moment of major promise and considerable danger'. Luister hier naar het interview.
(Het plaatje is van Kipper Williams van The Guardian)